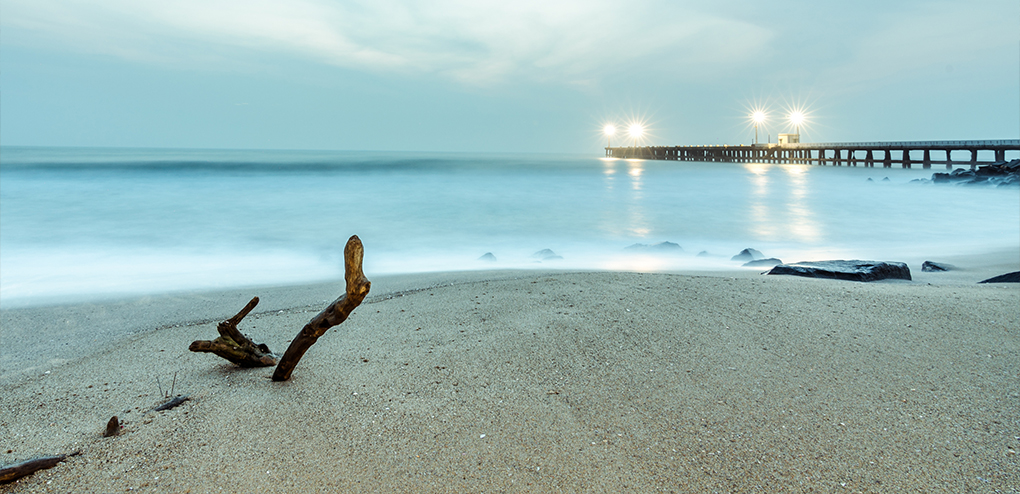 Pondicherry also called as Puducherry and popularly referred as just Pondy. This scenic coastal town is one of the seven Union Territories of India.
Former French colony, Pondicherry has retained all of its French architecture and lifestyle, even miles away from the France. Famous for stunning beaches, parks, brightly painted bougainvillaea laden walls, colonial buildings, scenic backwaters, authentic French cuisine, more shopping destination, Pondicherry has lot to offer for its travelers across the world.
Pondicherry is the beautiful costal city, located on the shore of Majestic Bay of Bengal, India. Pondicherry is the capital city of the Union Territory of Puducherry. It's popularly called as "Pondy" and the largest city in the territory. Pondicherry is the former French colony and now popular tourist destination in Southern India.
Pondicherry is the union of former French Establishments of Puducherry, Karaikal, Mahe and Yanam, which ornaments entire South India.This beautiful coastal city is tagged as "Peaceful Pondicherry". In this city, all major roads lead to the beach. It makes travellers to feel that they are living at the South of France. Pondicherry also affectionately called as "'The French Riviera of the East", "India's Little France" and "Quintessence of French Culture". Even now, this city is spiced with French culture, tradition and number tourist spots in Pondicherry to delight the travellers.
Hi this is kovalan
With appealing French architecture, attractive boulevards and breath taking beaches, Pondicherry is a destination which is really worth visiting. Travelers can spend their vacation in an enjoyable manner and leave unforgettable imprints on their heart. We have come up with a list of places to visit in Pondicherry.
Pondicherry History:
In the past, Pondicherry is under colonial rule of Dutch, Portuguese, British and French rulers. By contrast, historic places in Pondicherry like Arikamedu, Ariyankuppam, Kakayanthoppe, Villianur and Bahur which were annexed by French rulers. In the 1674, French acquired Puducherry from British India. On November 1, 1954, the French properties in India was reassigned to Indian Union and rehabilitated as Union Territory. In 1963, officially Pondicherry was the integral part of India. Pondicherry tourist places package covers exploring the scenic beauty of this coastal town with more comfort.
Pondicherry Tourism:
Puducherry Tourist Places – Pondicherry is perfect destination for leisure and budget travellers to spend their vacation on the most scenic land. This city resembles the French architecture with several colonial buildings, statues, churches, systematic town planning as well as local Tamil style architecture.  The most popular tourist attractions in Pondicherry includes spending your time on visiting coastal beaches, namely Promenade Beach, Rocky Beach, Auroville Beach, and Serenity Beach.
Sri Aurobindo Ashram is another popular tourist attraction in Pondicherrythat draws travellers from all over the world, to visit City of Dawn an experimental city in Auroville. Pondicherry visiting places include number of temples and churches which were built during 18th and 19th century. Here, you can explore number of tourist destinations like Gandhi statue, Children's Park & Dupleix Statue,Nehru Statue, Romain Rolland Library, French War Memorial, Pondicherry Museum, etc.
Apart from several tourist destinations, there are so many hotels and restaurants to have delicious cuisine that cater Europeans taste buds. For others, there are several Indian, Chinese, Continental and fast food restaurants to choose from. Pondicherry is popular weekend destination, which can be easily reached from popular cities like Chennai and Bangalore, primarily for lower taxation on alcoholic beverages.
How to Reach By:
Pondicherry is top tourist spots in India. This city is just located 150 Kms from Chennai. Travels in Pondicherry are well facilitated with sophisticated bus terminal, railway station and newly constructed domestic air terminal.
We are the best travel agent in southern India offering attractive deals on Pondicherry Tourism packages. For more details on Pondicherry packages, please contact us!!!
Tags:  puducherry tourism, pondicherry attractions, pondicherry places, pondicherry visiting places, attractions in pondicherry, pondicherry trip, travels in pondicherry, places in pondicherry, pondicherry tourist places, best places in pondicherry, pondicherry tourism development corporation, tourist spots in pondicherry, pondicherry packages, pondicherry transport