Looking for best homestay in Pondicherry  to spend your vacation in amazing way? Here are the list of some popular Pondicherry homestays.
---
Les Bouganvilla – Auroville, Pondicherry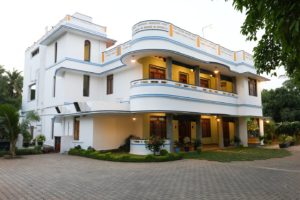 Les Bouganvilla Auroville Pondicherry is popular homestay located very close to Pondicherry in Auroville, Tamil Nadu. This luxurious accommodation located 3.8 miles from the city center. We are facilitated with all means of transport. One of the finest villas in Auroville
Serenity Beach Villa Pondicherry
Serenity Beach Villa Pondicherry is located very close to Pondicherry Airport and Sri Aurobindo Hand Made Paper Factory. This place is ideal destination for travelers to enjoy comfortable stay. It is one of the top rated accommodations in Pondicherry.
Ponni Illam Homestay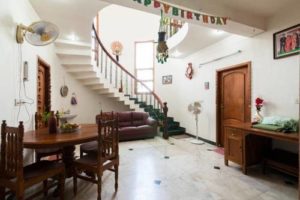 Ponni Illam Pondicherry is located 2.5 km Sri Aurobindo Ashram and 7 Km from Pondicherry city center. Our homestay is facilitated with all modern amenities to offer great accommodation to all our travelers.
Inn Pondiville Pondicherry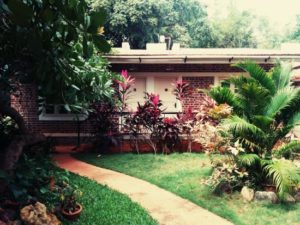 Inn Pondiville is part of a 6 acre farm that is tucked away in the jungle between the quaint old town of Pondicherry and the vibrant future city – Auroville. This city is loaded with all means of amenities to facilitate the travelers.
Nila Homestay in Pondicherry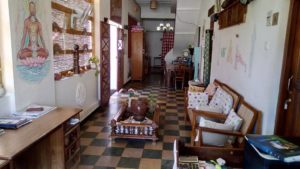 Nila Homestay Pondicherry is another popular accommodation in Pondicherry, located very close to Aurovile – the international city.  We offer attractive deals on our travelers and make them to enjoy their trip to Pondicherry to maximum extent.
Sharanya Holiday Villa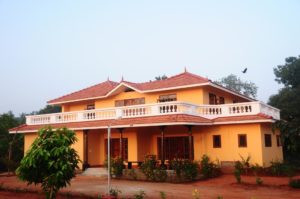 Sharanya Holiday Villa is located at the center of Pondicherry, with private garden. This 4 bedroom villa is loaded with excellent infrastructure and amenities. Our staffs will ensure great and luxurious stay at Pondicherry.
 JPR Villa Pondicherry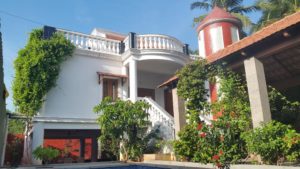 JPR Villa Pondicherry is 5 bedroom villas with excellent architecture, garden and romantic white exteriors. We are located very close to Pondicherry beach and top restaurants that offer delicious French cuisine.
 Blue Mangoes Pondicherry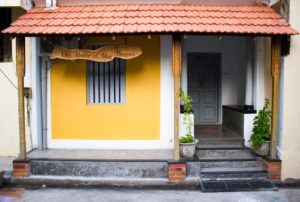 Lovely architectural design, interiors and garden makes Blue Mangoes Pondicherry as one of the leading homestay in Pondicherry. Enjoy great stay with your family and friends.
Duplex Star Villa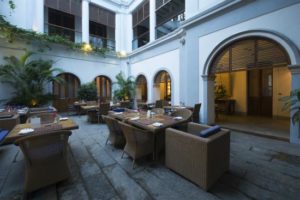 Duplex Star Villa is 5 bedroom luxury accommodations that offer luxury stay to the visitors. The perfect home environment, garden and kitchen make you that you're residing at your away home.
 Coloniale Heritage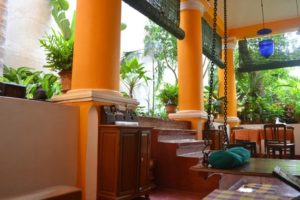 Coloniale Heritage Pondicherry has four bedrooms with lavishing bathrooms and gardens. Obsoletely, it is best place for travelers to stay and explore the beauty of Pondicherry to full extent.
 Eccentric Homestay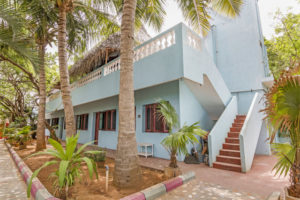 Eccentric Homestay Pondicherry is perfect place for travelers to enjoy great stay in Pondicherry. This place is highlighted with excellent infrastructure, beautiful garden and scenic location. Here, travelers will have great time by exploring the beauty of Pondicherry.
Archela Homestay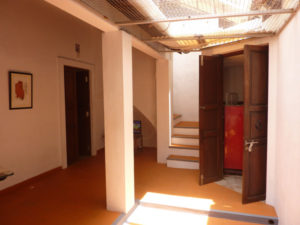 Archela Homestay is located at the center of the city. It has comfortable room equipped with all modern amenities. Here, you can enjoy great stay with your friends & family members.
Lotus Studio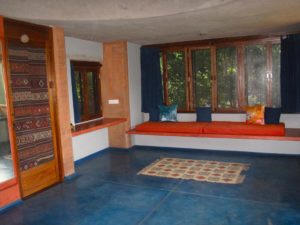 Lotus Studio Pondicherry is most amazing accommodation that has its own fishing pond. It boasts two bedroom studio apartments decorated with excellent infrastructure, interiors and gives true homely feeling.
Swasti Villa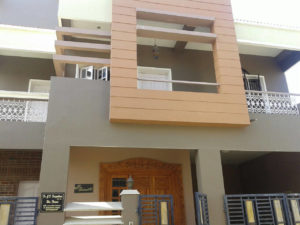 Located at the center of the city, Vila Swasti Pondicherry is equipped with kitchen, garden and roof top terrace for perfect evening get together.
Paradise Nest Pondicherry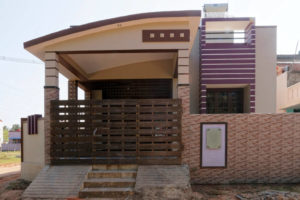 Paradise nest is perfect for couples to enjoy their vacation. As the name suggest, paradise nest is loved very close to the beach. The scenic beach view and surroundings ensure great stay to the travelers.
Pondicherry is most popular tourist destination, located on the coast of Bay of Bengal. This city is also called as Goa of South India. Pondicherry is a heaven for travelers looking to spend their vacation in most peaceful land. Being located very close to Chennai and Bangalore, peaceful Pondicherry drives huge number of travelers to enjoy various tourists activates. Homestay in Pondicherry is ideal option for tourists to explore the amazing beauty of Puducherry to full extent.
Pondicherry homestays offer great facilities for voyagers. Here, you can enjoy luxurious holiday by walking the Pondicherry beaches and enjoy the culture magnificence of India French lifestyle. Check out Places to Visit and Things to in Pondicherry.
From luxury homestays to budget accommodations, Tour2Pondy lists some of the best homestays in Pondicherry. Our homestays are located very close to Pondicherry beach, Aurovile, White Town, ECR Road and various tourist attractions like Sri Aurobindo Ashram, Immaculate Church, Manakula Vinayagar Koil, French Consulate, Arikamedu, Matrimandir, Pondicherry museum, French War Memorial and Pondicherry Museum.